$8 Million Verdict Awarded
Student Sexually Assaulted by Middle School Teacher
John Taylor & Natalie Weatherford of Taylor & Ring, obtained an $8 million dollar verdict in May against Pomona Unified School District on behalf of the then 14-year-old student who was sexually abused by her 8th grade teacher, Lorbeer Middle School teacher Steven Andrews committed multiple acts of sexual assault and abuse against the student over the course of her 2010/2011 school year.
On numerous occasions, teachers and the school principal failed to adequately supervise Andrews or contact Child Protection Services to report the situation. After one of Andrews' co-teachers reported his inappropriate conduct, the principal assured the co-teacher that she and the district would take appropriate action, however, she and the district did nothing allowing Andrews to continue his predatory conduct toward the student. The jury unanimously held that Pomona Unified School District was 80% at fault for the Plaintiff's damages and the perpetrator (Andrews) was 20% at fault.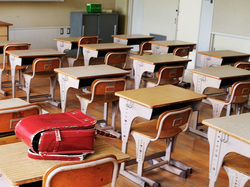 MotionLit prepared the opening and closing Powerpoint presentation, which clearly and effectively identified the exhibits, witness testimony, and cast of characters, grabbing the attention of jurors and the courtroom.
In a courtroom presentation, being synchronized with technology can be challenging, especially when you're focused on presenting your case. Finding the perfect harmony of presenting evidence with engaging visuals, to compliment your arguments and persuade a jury, is a craft that can be achieved with careful preparation and using a talented creative team such as MotionLit.
If you're considering using persuasive graphics, videos, and animations on your next trial, or settlement stages, consult with a MotionLit designer for faster, smarter, and more effective methods of visual communication.
Book your video crew today! (213) 291-9141